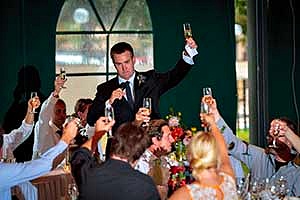 Throughout the course of an alcohol recovery journey, there will be situations that challenge even the most seasoned person in recovery. In the beginning stages, typically one immerses themself into a community void of alcohol and alcohol-related activities. When surrounded by like-minded individuals, the likelihood of maintaining sobriety increases.
The problem arises when you have to mingle outside the safety and security of the sobriety movement. Attending social events that involve alcohol can cause many triggers to emerge.
"Science has taught us that stress cues linked to the drug experience (such as people, places, things, and moods), and exposure to drugs are the most common triggers for relapse." (DrugAbuse.gov)
One such example is a recovering alcoholic who went to a wedding after achieving six years of sobriety.  The wedding was a "reunion" of sorts for his old party crowd, full of drinking buddies and ex-girlfriends.  The wedding was also being held outside the US in a country that prides itself on a culture of food and alcohol.  Being back with the old gang in a festive setting, reminiscing about their old exploits is called euphoric recall by addiction specialists.
This triad of people, location, and feelings can be overwhelming for many in recovery.  For this six-year veteran, it was too much.  He left to go to the bathroom, and upon his return, he discovered that the servers had poured him a glass of champagne for the toast.  The toast occurred almost immediately.  He raised the glass and paused…then started to lower the glass.  An old drinking buddy said, "You have to toast!  It is bad luck if you don't."  One sip turned into 3 gulps, which then turned into a full-blown relapse.
5 Tips To Avoid Drinking In Social Situations
The key to managing this situation is proper planning and accepting that urges will occur.
Take A Wingman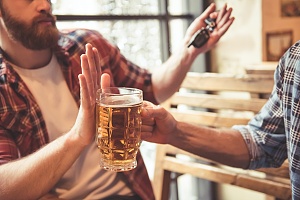 Bring a sober friend or date with you. Having someone with you who you are accountable to is a powerful motivator.
Keep Your Hands Full
Always have a non-alcoholic drink in your hand. Servers are less likely to offer you alcohol if you already have a beverage.
Let Key People Know
Go to the bartender or server at the beginning of the evening and let them know you don't drink. Ask them to give you a glass with soda and lime, which is a great cover. Also, letting a key person know in your group that you are in recovery can help you stay accountable.
Have An Escape Plan
Have a pre-made excuse for why you have to leave the event early. If you find yourself in a difficult situation with cravings, have a reason to head for the exit.
Be At The Top Of Your Game
Make sure that you are not tired or hungry.  Have your sponsor text or call you during the event.  Make sure you are thinking about sobriety before you go into the event.
Reach Out To An Experienced Addiction Recovery Center
No one can avoid all social situations that involve alcohol or drugs. This scenario will present itself to everyone in recovery.  Having a plan is key. It is probably best to get help developing such a plan with a sponsor, peer support group, or recovery professionals such as those at Aquila Recovery. Remember that there is nothing more important than maintaining your sobriety. Reach out to Aquila Recovery for more information by calling 202.618.9125 or contact us online.