When seeking treatment for substance use disorders it is important to work with a qualified physician and addiction treatment specialist. Choosing evidence-based treatment for substance use disorder and building a strong support network will greatly help you during your treatment and well into your recovery. While most evidence-based addiction treatment focuses on behavioral therapies, medication-assisted treatment and sober living homes, there is room within many treatment programs to also include holistic addiction treatment approaches.
Holistic Treatment For Substance Abuse
Substance use disorders are challenging to face and work through, but for some individuals alternate therapies can be an effective part of treatment. Holistic addiction treatment programs generally focus on your overall well-being. They can help you stay calm and focused which is essential in strengthening your mind, body and soul.
What Is Included In Holistic Substance Use Treatment?
Holistic substance use treatments sometimes include: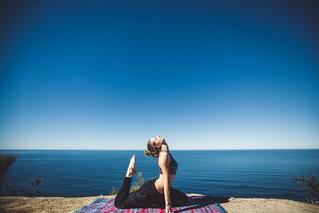 Yoga
Tai Chi
Spiritual therapy
Counseling
Art therapy
Routine exercise
Acupuncture
Message therapy
How are Holistic Treatments Beneficial For Me?
As these non-medical programs are designed to fit your individual needs, these therapies can help you:
Identify the underlying causes of addiction
Strengthen the resistance towards your cravings
Promotes physical fitness
Increases your self-confidence
Helps you develop a long-term recovery plan
Speak To The Aquila Recovery Clinic
Holistic rehabs focus on treating the whole person, that helps you take care of your physical, mental and spiritual health. At Aquila Recovery, we recommend that any holistic approaches to treatment for substance use disorder be used alongside evidence based treatment modalities and under the care of an experienced and reputable addiction treatment specialist. Have questions about holistic approaches to addiction treatment? Reach out to Aquila today. Contact us by phone at (202) 618-9125 or schedule a consultation online.