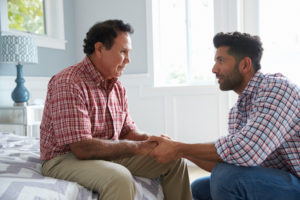 Trauma informed care uses the assumption that people are more likely than not to have suffered at least one traumatic event in their lives. The goal of trauma informed care is to understand that traumatic events leave scars and individuals and businesses alike should seek to do their utmost to avoid triggers causing people to relive their most traumatic experiences. There are multiple principles in the delivery of effective trauma informed care all caregivers should be aware of.
What Is Trauma Informed Care?
Trauma informed care is a response to the understanding that millions of Americans have experienced major trauma. CDC statistics reveal one in four women have experienced domestic violence and one in 71 men have experienced rape, for example. This type of care is about approaching care with the understanding that they may have experienced a traumatic event. The approach informs how care is delivered. For example, when asking sensitive questions that are pertinent to the situation, the caregiver may explain why they are asking. Patients do not typically volunteer information on their traumatic experiences and basic techniques such as these can prevent a loss of trust.
The Five Principles Of Trauma Informed Care?
Trauma informed care operates on five simple principles. These are simple for caregivers to implement as they complement many existing care principles. Businesses may also implement many of these principles in their work practices to avoid inadvertent re-traumatization and to create a happier workplace for all.
Safety
The physical and emotional safety of all patients, staff, and members of the public should be established immediately. Basic changes in behavior can establish this. Avoiding standing over people or inadvertently getting too close are two ways to help people feel safe and unintimidated. Creating reporting systems and taking action against anyone who violates the physical and emotional well-being of patients are other ways of utilizing the principles of trauma informed care.
Trustworthiness & Transparency
All care needs should be addressed in a manner that creates trust through transparency. Caregivers should seek to be transparent about courses of care and the direction the overall organization is taking. A culture of trustworthiness and transparency trickles down to the way the needs of patients are addressed. A change in culture at the top will have profound effects throughout the organization. It takes a considerable amount of time to build a feeling of trustworthiness. Caregivers must persist in their goals by being consistent. Over time, building this trust with new people will get easier.
Peer Support
Supporting one's peers is part of ensuring trust is built between all. Encouraging everyone to seek support from their peers when they have an issue, builds trust, and strengthens relationships. Caregivers work in a stressful profession and like most people, need support at times. This philosophy will also impact service delivery; a well functioning team that can rely on each other will perform better and give patients a superior standard of care.
Collaboration & Mutability
Patients who have experienced severe trauma in their lives may not be open to talking about their issues or confronting their past. It is not uncommon for many patients to distrust the treatment process. Caregivers and organizations are encouraged to involve the patient in their own care. Rather than telling the patient what they need to do, it is beneficial to explain why. Invite any questions; request feedback and suggestions from the patient regarding how mutually agreed goals can be met. This is particularly important when it comes to setting goals. Both the treatment provider and patient should feel that their mutually set goals are ambitious yet manageable.
Empowerment & Choice
Anyone involved on either side of trauma informed care should feel that they have choices. They should feel empowered to take charge of their lives and make their own decisions. Organizations can strengthen through understanding that every individual's experience is different. Every person's situation requires a tailor-made approach in order to acquire positive results. Empowerment extends further, however. Caregivers and companies should seek to be sensitive to concepts like gender, culture, and race; by taking a diverse range of experiences, patient care standards can be increased. Overall, this may be the most important principle. Through creating an environment where everyone has the feeling of control of their own destiny, morale increases, standards improve and positive treatment outcomes will be met.
Consider Trauma Informed Care At Aquila Recovery Clinic
Trauma informed care is a modern-day philosophy for dealing with modern-day health concerns. It is already held as the gold standard within the CDC, and trauma informed care will have a place at the most highly regarded clinics and surgeries. If you believe that trauma informed care is something from which you can benefit, it is time to take action. Contact Aquila Recovery Clinic to find out more about how they utilize trauma informed care and the treatment programs available now. Call us at (202) 618-9125 or contact us online to get started today.