Group therapy may take the form of psychoeducational, skill-development, or support groups in an intensive outpatient program (IOP). IOP group treatment offers crucial support and chances for personal development for those who are just getting clean, regardless of the style of the group. Learn more about the key advantages of group therapy for addiction rehabilitation.
Personal Development and Skill Building
IOP group therapy educates patients on specific challenges and problems that they are learning to manage while in recovery. This frequently encompasses the development of life skills, coping mechanisms, stress management, relapse prevention, and management techniques. IOP assists clients in establishing healthy coping strategies and relapse prevention techniques as they make the gradual progression from treatment to an enjoyable and independent lifestyle in recovery.
Clients understand the value of establishing a peer recovery supportive community during IOP. Individuals develop enduring relationships and acquire priceless skills, such as how addiction can alter actions and behaviors in social situations, by regularly attending group sessions, discussions, and events.
Clients in group therapy can also benefit from one another's perspectives and practice being open and vulnerable by expressing their own personal stories. Workshops, twelve-step speaker presentations, and team-building activities all support personal healing and the development of interpersonal skills necessary for long-term sobriety, including resolving disagreements and establishing their accountability in many sorts of relationships.
As newly sober people learn and put these new behaviors and abilities into practice at home, work, and in other social situations, staff members at the outpatient rehab center or sober living residence are also available to offer direction and support.
Peer Assistance
Clients can provide and gain support from their peers who are also going through drug and alcohol addiction treatment via group therapy. A support group is intended to provide a setting where members support and challenge one another in order to foster personal growth and long-term sober achievement. Additionally, this setting is the perfect setting for patients who are farther along in their own recovery to mentor newcomers to a clean lifestyle.
During a very trying and transitional time, IOP group therapy encourages acceptance and healing. Early sobriety has a special set of difficulties as newly clean persons learn to balance everyday stresses, new jobs, educational objectives, and family obligations without turning to drugs and alcohol for solace. During this time, some persons experience relapses, which can be harmful to the healing process. However, with a strong peer support network, people might feel comfortable sharing relapses openly and honestly and seeking assistance when it's needed most. The individual can resume their treatment program with the correct assistance and care, modify it as necessary, and continue their progress toward a sober lifestyle.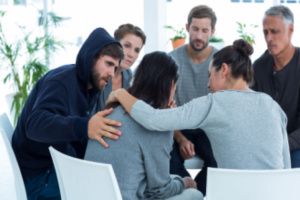 Gaining sobriety can be a tremendously humbling and rewarding experience; however, it can also be lonely, particularly if a client's friends or family members use drugs or oppose their recovery. A person may frequently feel alone in their healing process or as though their loved ones don't comprehend what they're going through. Group therapy during IOP helps reassure clients that they aren't alone in their journey and recovery path and that other individuals are going through the same challenges, regardless of the client's home setting or the existence of an outside support system.
As clients go through a variety of life transitions in the early stages of recovery, IOP group therapy offers a regular connection to a supportive community. Recovery is a communal experience.
Education Fundamentals
Education is a key component of IOP group treatment for those who are just beginning their recovery. This low-stress group setting is excellent for talking about topics that have a significant bearing on a person's capacity to maintain sobriety, such as:
Strategies for preventing relapse
Spirituality
Meditation and awareness
Healthy eating
Sleeping practices
Having fun and interacting with others while resisting the urge to consume alcohol or drugs
Dividing your time between work and recovery (or other responsibilities)
After rehab, outpatient group therapy provides a supportive, secure setting to talk about these subjects and start putting them into practice. Without the help of a sober community, putting this knowledge into action can be challenging, but doing so while receiving treatment is a great approach to gradually transition to a sober lifestyle and decrease the chance of relapse.
Optimal Social Interactions
When an individual is living an addictive lifestyle, drinking and using drugs dominate social interactions. Many of the person's friends engage in drug or alcohol abuse, and social gatherings, activities, and relationships frequently center on the problematic behavior.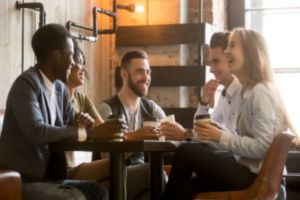 People often avoid rehabilitation and addiction treatment because they find it difficult to fathom having fun without the use of drugs or alcohol. They don't want to lose the sparkle of life after they sober up. Unfortunately, it can be quite challenging to change this thinking because drugs and alcohol have an impact on the areas of the brain that control pleasure and motivation. By providing constructive social interactions and techniques to combat the destructive belief that sobriety is boring, outpatient group therapy assists clients in overcoming this hurdle.
In addition to providing clients with therapeutic social interactions free from drug or alcohol use, outpatient group therapy also can aid in their recovery. Clients who regularly attend these group sessions frequently discover that sober social interactions are far more gratifying, entertaining, and meaningful than their prior conception of "fun."
Clients in outpatient group sessions learn crucial relapse prevention techniques as well as how to socialize with sober peers, hold respectful conversations, work through conflict, engage in mindfulness meditation, and manage any social anxiety that may be amplified by their recent sobriety. All of these abilities will motivate clients to reconsider how enjoyable and sociable activities are to them in order to teach them how to take pleasure in a sobriety-based lifestyle.
Organization and Discipline
Addiction naturally leads to a chaotic and self-indulgent lifestyle; however, outpatient group therapy teaches a new way of life. Group therapy supports healthy lifestyle changes by giving structure and discipline, and offers a setting that is favorable to learning, developing, and changing. Clients can use the structure as a place to exercise new skills, identify their strengths, and form new habits.
The adaptable scheduling of IOP group treatment helps patients practice understanding how to juggle other commitments like jobs and children while still concentrating on their recovery. It also provides constancy. Scheduled outpatient group therapy additionally promotes self-reflection, examining the significance and motive of past choices, as well as pondering future decisions.
The structure and discipline offered through outpatient group therapy can help people who battle with stress and anxiety by removing additional uncomfortable feelings that may prevent them from taking the next step and engaging in self-reflection.
Although altering addictive behavioral patterns can be exceedingly difficult to break, outpatient group therapy ultimately gives people the tools they need to actively adopt healthy routines that will aid in long-term recovery. Individuals will learn to make more deliberate decisions that resist temptations and encourage awareness in all facets of life, as opposed to immediately reverting to harmful behaviors.
A Secure and Encouraging Environment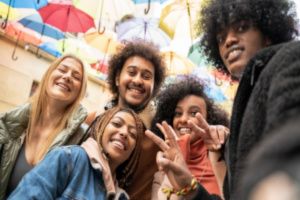 A healthy environment can have a significantly vital effect on sobriety, just as a toxic environment can have a significantly damaging effect on rehabilitation. A recovering person needs both material and emotional assistance in order to thrive. Unsurprisingly, the individuals we choose to be with have a significant influence on how we behave and make decisions. Research has shown that persons undergoing addiction treatment who interact with other sober individuals who are experiencing similar challenges have a higher likelihood of long-term recovery.
During IOP, outpatient group treatment provides a peer support network that fosters long-term sobriety through beneficial conversation, skill building, and knowledge. A recovering addict is more likely to lower their emotional guard and overcome obstacles that have previously prevented them from fully recovering from drug and alcohol addiction when they receive therapy in this kind of relaxed group setting. In rehabilitation, a person's sense of safety and support reinforces healthy patterns of thinking, acting, and ultimately living, which prepares the path for personal improvement.
Are You in Need of Support?
Group therapy during IOP offers several advantages for individuals in a sober living home as well as other aftercare programs and serves a very obvious function for those in recovery. Contact Aquila Recovery right away to speak with helpful, friendly staff if you have any additional inquiries regarding group therapy, IOP, or other ongoing care services such as a sober living program.