Inpatient and outpatient rehabilitation are the two ways in which drug and alcohol treatment programs are available. While both types are predominantly focused on rehabilitation, each one has its own set of characteristics and benefits to provide. Inpatient rehabs are residential treatment programs for those suffering from significant addictions. Outpatient rehabs are part-time programs that enable recovering addicts to continue working or attending school during the day while living at home.
Before choosing a treatment program, it is important for both the person with a substance abuse problem (SUD) and their family members, to understand the differences. Prior to making a decision, consider all possibilities to place yourself or a loved one on the path to long-term sobriety.
Rehab And Treatment For Inpatients
With inpatient recovery programs patients are admitted into a controlled setting, often known as residential therapy. Patients are cared for at a clinic that includes medical and emotional support 24 hours a day, seven days a week.
Getting Ready For Inpatient Rehab
It is important to schedule an entering date for rehab and to have all of your affairs in order prior to that date.
Before attending rehab, there are some items to take care of:
Speak with your employer about the necessary time off from work required for treatment
Locating suitable placement or care for your children and/or other family members
Organizing your transportation both to and from the recovery center
Confirming what personal items are permitted in the treatment facility
Inpatient Rehab Support And Contact With Family
Successful inpatient clinics understand the need for family involvement in recovery. To provide emotional support and encouragement, family members may reach out to loved ones in residential treatment. Each inpatient program will have rules regarding when, how and how often residents and their loved ones will have contact. Many rehab facilities also offer therapy to the family members of those patients receiving treatment.
Inpatient Rehab: A Day In The Life
Residents are able to focus entirely on being well and getting sober during inpatient treatment while being removed from the patterns of their former life. A normal day in residential therapy is meticulously planned and tracked. Inpatient recovery is guided by different types of physicians and counselors who meet with patients both independently and in groups. The duration of inpatient treatment may be from twenty-eight days up to six months.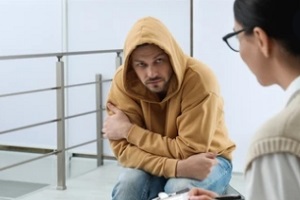 Medically assisted detox is the initial stage for inpatient therapy. While the drugs leave the body, doctors and addiction specialists observe the patients' vital signs. During detox, drug cravings, a symptom of withdrawal, are frequent and can be difficult to conquer, leading to relapse. Inpatient therapy provides continued medical attention to prevent recurrence as clinicians provide assistance with those and other withdrawal symptoms.
Over time and with repeated usage, the brain responds differently to various addictive substances. Any drug's withdrawal effects are unpleasant, but some medicines should never be stopped without medical care.; in some cases withdrawals could be lethal. Benzodiazepines, synthetic opiates, alcohol and heroin have all been associated with lethal withdrawals. Patients in inpatient treatment have access to medical care 24 hours a day, seven days a week. The distinction between relapsing and recovery can be greatly affected by this level of attention.
Treatment And Rehabilitation In An Outpatient Setting
With this understanding of how involved an intensive outpatient is, it is also important to understand how it compares to an outpatient setting in order to determine which program will be a suitable option for your specific case. In comparison to inpatient drug rehab, outpatient drug rehab is less restrictive. Outpatient treatment programs often require 10 to 12 hours of weekly attendance at a local treatment facility.
Drug misuse instruction, private and group counseling and demonstrating to addicted persons how to live without their drug are all covered in these sessions. For someone with a lesser addiction, outpatient drug rehab can be a viable option, or it can be part of a longer-term treatment program. Outpatient drug therapy can last from three to six months, equivalent to inpatient treatment, or up to a year.
Detoxification Programs For Outpatients
Outpatient detoxification may be a good fit for patients who are experiencing mild-to-moderate drug withdrawal symptoms. Despite not requiring full medical attention, outpatient detoxification must still be carefully monitored for withdrawal symptoms. Mild symtpoms, suitable for outpatients may include nausea, vomiting, headaches, irritability, depression, shaking and insomnia.
During this time of withdrawal, cravings for substances will increase and create a potential for relapse. If you are planning to detox in an outpatient situation, be sure that you have established a proper support system to avoid relapse or a medical crisis.
During outpatient detox, patients may be required to visit a hospital or other treatment center for medical and mental health examinations. On-site pharmaceutical administration by clinicians or doctors may be used to alleviate withdrawal symptoms such as anxiety, depression and an elevated heart rate. Allowing your body to go through the necessary steps is of the utmost importance, and requires a trained professional to support your mind and body as it safely completes the process.
Providing Social Support Throughout Outpatient Rehabilitation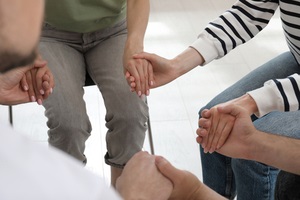 Outpatient drug rehab enables patients to remain at home while receiving treatment. Outpatient drug rehab allows people to continue working and maintain contact with their families and friends. Outpatient treatment institutions typically hold meetings in the evenings or early in the morning, allowing participants to maintain their regular routines.
Outpatient treatment may include 12-step organizations such as Alcoholics Anonymous (AA) and Narcotics Anonymous (NA). Participating in recovery organizations such as AA and NA has been shown in studies to assist recovering addicts with staying sober. As part of their continuing recovery, many people with a substance use disorder (SUD) turn to outpatient therapy after finishing an inpatient program.
Inpatient drug rehab may be more expensive than outpatient drug rehab. Residential rehab patients benefit from on-site medical care and counseling, which can increase the treatment expenses. However, the difference in cost should not influence a person's decision to pursue the best treatment option for them.
Recovery Is Just Around The Corner, No Matter What You Decide
Rehab, regardless of which treatment program you or a loved one chooses, has the potential to change your life. Addiction is a serious disorder that requires lifetime treatment. Medical specialists, mental health providers and community groups such as AA can all help you achieve the necessary skills to avoid recurrence. However, in many cases more intervention may be required to break an addiction. If you need a little bit of extra help and support, that is what Aquila Recovery Clinic is here to provide.
If you are ready to take the steps for yourself or a loved one to receive the treatment needed to break free from an addiction, we are here to help. Our highly trained and compassionate team at Aquila Recovery Clinic is ready to support you and your loved ones on the journey to recovery.
You are not alone, and it helps to understand that though this process may not be the easiest path, with the right team behind you, you can find success and the healing necessary to live a life of sobriety. Contact Aquila Recovery Clinic today to begin the journey toward recovery.